Pandev Law's Charleston immigration law office just received a fast H-1B extension approval for an Elementary School Teacher. The petition was approved in just 29 days without upgrading to premium processing. The H-1B beneficiary will now pursue an employment-based green card through the PERM labor certification process. The H-1B visa is granted to applicants who hold at least a bachelor's degree and have a valid US job offer for a specialty occupation position.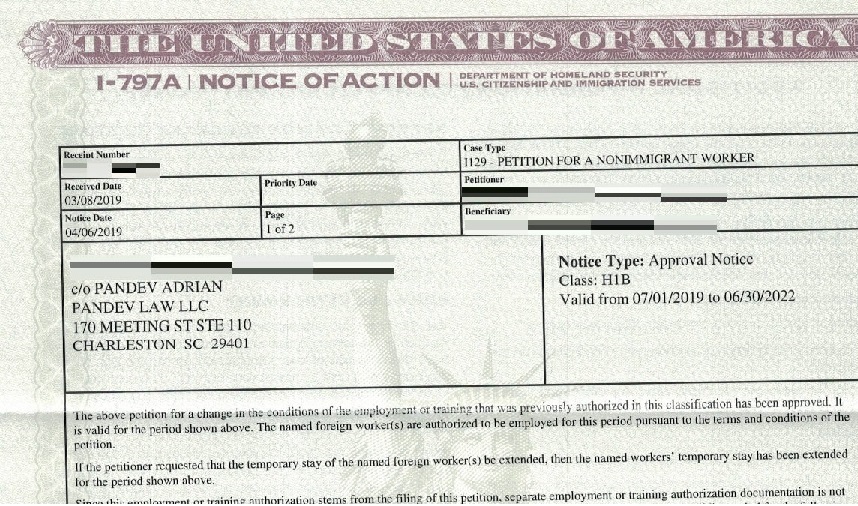 Pandev Law's Charleston immigration lawyer does not guarantee a similar fast approval time on other regular processing H-1B extension petitions. Every case is different and prior results do not predict or imply future outcomes. However, in today's era of regular USCIS delays and negative immigration news, we think it is important to share such a positive result.
To learn more about the H-1B visa read our H-1B visa requirements article. If you are searching for an "immigration lawyer near me" or "immigration lawyer Charleston" contact our Charleston immigration law office.
Fast H-4 Approval
Pandev Law's Charleston immigration law firm office also received the H-4 approval notices for the H-1B applicant's family members in 29 days. Our Charleston immigration attorney regularly files H-4 extension applications concurrently with the H-1B extension petition to ensure the H-1B applicant's family members may continue to reside in the US with the applicant. Usually, when the H-4 application is filed concurrently with the H-1B petition, both applications are adjudicated at the same time.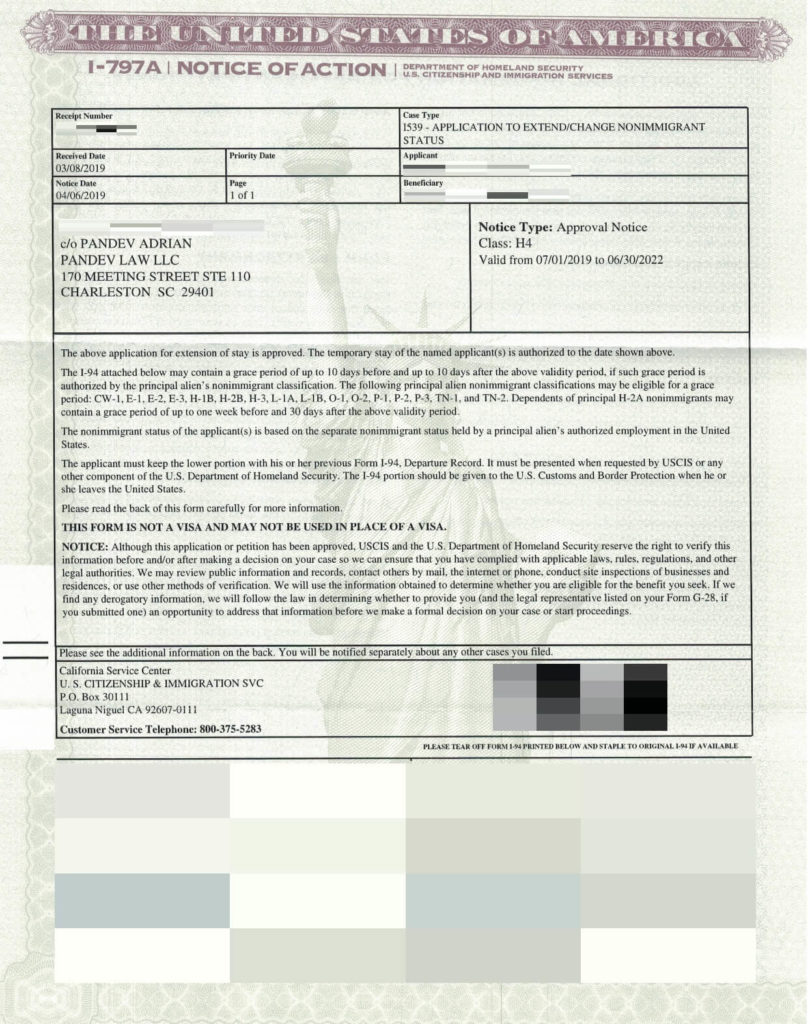 Who is eligible for an H-4 visa?
Immigration lawyer Charleston answer: The H-4 visa is granted to dependents, including spouses and children under the age of 21, of H visa holders. An H-4 visa allows dependent family members to accompany an H visa applicant to the US. H visa holders whose dependent family members can apply for an H-4 visa include: H-1B, H-2A, H-2B, and H-3 visa holders.
To learn more about the H-4 visa read our H-4 visa article.
Educator and Teacher Immigration Lawyer Charleston
Are you a teacher or educational institution seeking an "immigration lawyer near me"? Our Charleston employment-based immigration law firm specializes in representing educational institutions, including primary schools and colleges, and professors in immigration matters. Contact us here for our teacher immigration lawyer Charleston services.
Our Charleston Immigration Lawyer Is Here to Help You
Would you like your own customized employment-based immigration USA strategy from our Charleston immigration attorney? Are you a foreign professional or employer looking for the most suitable business visa USA option? Do you need assistance preparing and filing your H-1B visa petition? Our Charleston employment-based immigration lawyer can devise a custom tailored H-1B business visa USA strategy and prepare your H-1B petition in compliance with all relevant employment-based immigration rules. As an experienced Charleston business immigration law firm, Pandev Law has the knowledge and experience to guide you through the H-1B extension process.
Please complete our contact form, email [email protected], or call us at (843) 779-6607 to schedule a consultation with our Charleston immigration attorney.
During your consultation, our Charleston immigration lawyer will provide an honest assessment of your case, and a recommendation about your next steps.
Disclaimer: This blog article is provided by Pandev Law, LLC for general educational and informational purposes only. Although this article discusses general legal issues, it does not constitute legal advice nor does it establish an attorney-client relationship. No reader should act or refrain from acting on the basis of any information presented in this article, or elsewhere on this website, without seeking the advice of appropriate legal counsel, or other professional counsel, licensed in the relevant jurisdiction. Pandev Law, LLC expressly disclaims any and all liability with respect to any actions taken, or not taken, based on any content of this article or website. This blog article may constitute attorney advertising. Prior results do not guarantee a similar outcome.