Pandev Law's immigration lawyer received an H-4 change of status approval for the child of an H-1B visa holder. U.S. immigration laws allow the spouse and child of an H-1B visa holder to stay in the U.S. as long as he/she applies and obtains a valid H-4 dependent visa. Our business immigration law team is very happy for our clients and wish their whole family well on this journey in the United States.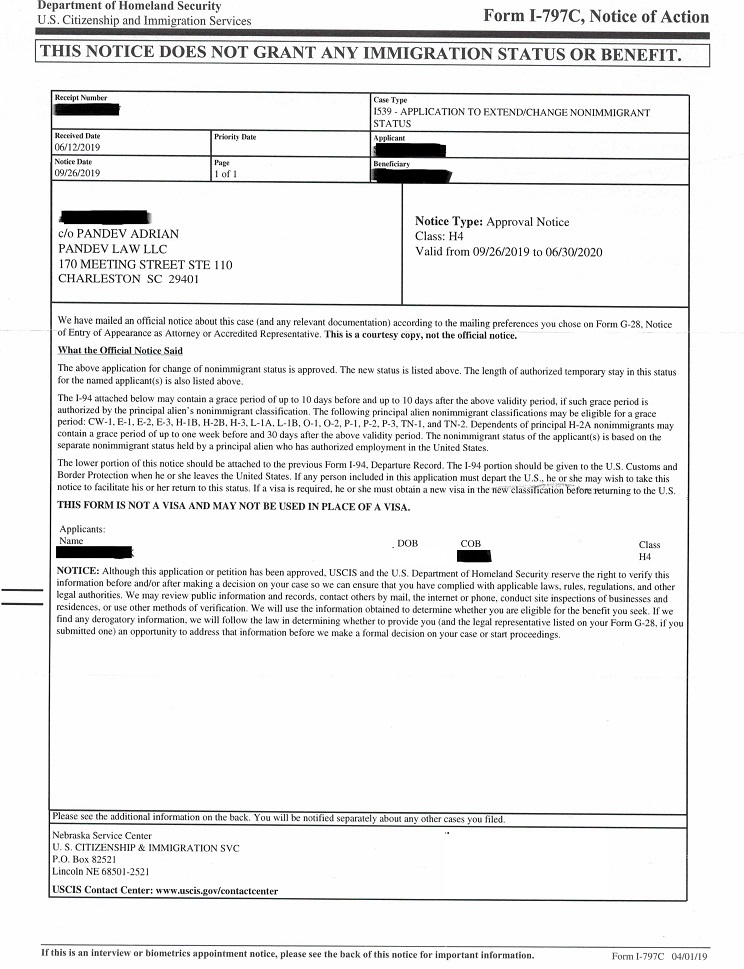 What is an H-4 visa?
An H-4 visa is granted to the spouse or dependent children of an H-1B visa holder. The dependents seeking to accompany the H-1B visa holder must either submit Form I-539 with USCIS or apply for an H-4 visa at a U.S. Embassy or Consulate. The dependent's H-4 status will be linked to the H-1B principal's status. If the H-1B principal loses her status then the H-4 status will also be lost. Similarly, if the H-1B principal is able to extend her status then the H-4 status may also be extended. Immigration laws do not allow an H-4 visa holder to work in the United States. Unless the H-1B principal beneficiary has an approved I-140 petition or her H-1B was approved under sections 106(a) and (b) of the American Competitiveness in the Twenty-first Century Act (AC21) which allows nonimmigrants in H-1B status to continue to extend their H-1B status while they wait to become lawful permanent resident of the United States.
If you would like more information about the H-4 visa, the business immigration USA process, and about our business immigration lawyer services, please visit our article describing the H-4 visa process.
Our business immigration lawyer is here to help with your business immigration case
Would you like your own customized business immigration USA strategy from an experienced business immigration attorney? Are you a, employer seeking to sponsor a foreign national and looking for the most suitable business visa USA option? Are you interested in learning more about our employment-based immigration USA services? Are you searching for an H-4 immigration lawyer? As an experienced New York immigration law firm, Pandev Law has the knowledge and experience to guide you through your employment-based immigration case.
To learn more about our immigration attorney New York services or to schedule a consultation with our New York immigration attorney, please complete our contact form, email [email protected], or call us at 212-220-6652.
During your consultation, our business immigration lawyer will provide an honest assessment of your case, and a recommendation about your next steps.
Disclaimer: This blog article is provided by Pandev Law, LLC for general educational and informational purposes only. Although this article discusses general legal issues, it does not constitute legal advice nor does it establish an attorney-client relationship. No reader should act or refrain from acting on the basis of any information presented in this article, or elsewhere on this website, without seeking the advice of appropriate legal counsel, or other professional counsel, licensed in the relevant jurisdiction. Pandev Law, LLC expressly disclaims any and all liability with respect to any actions taken, or not taken, based on any content of this article or website. This blog article may constitute attorney advertising. Prior results do not guarantee a similar outcome.